With holiday season upon us, there are countless reasons to throw a good party and indulge in great food and wine with your best of friends & family. After all, it's the season to celebrate! When it comes to decor, we love dressing up a room with beautiful seasonal flowers. Using seasonal flowers not only keeps the costs low but also lets you use flowers that you may not have the chance to enjoy during other times of the year – making them extra-special!
Take cues from these 4 very different holiday centerpieces – Glam, Rustic, Modern, DIY – for every taste & budget when planning your next holiday soiree.
1. Go Glam
We suggest something over-the-top for a formal affair. We love an all white-on-white colour palette. Think height to add drama, and different types of seasonal white flowers like roses and amaryllis to add texture. Add plenty of white candles for the perfect lighting.
2. Rustic and Lovely
Bring the outdoors in when you opt for a rustic centerpiece. Add seasonal elements of birch, berries and moss, and keep your colors low key for a beautiful yet demure setting.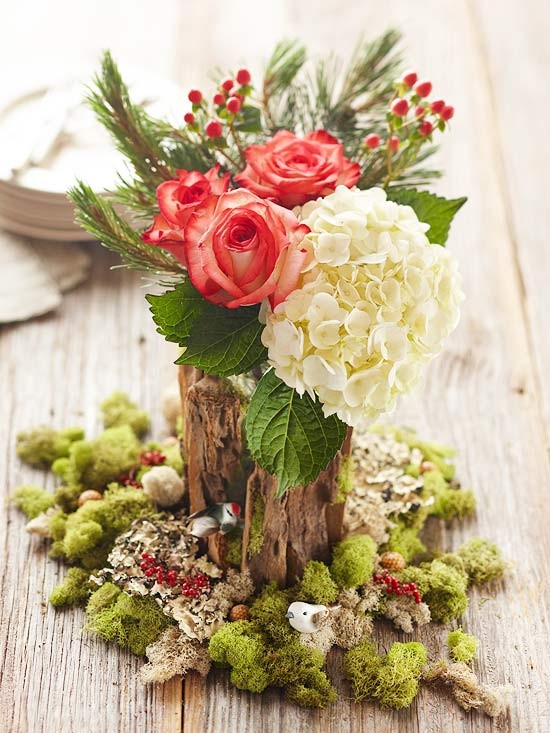 3. Traditional
Nothing is wrong with sticking with the tried and true. Grab all the red and green you can find. Think seasonal and gorgeous cranberries, poinsettia, holly and more! Accent with white calla lilies & roses to break up the heavy colors. Beautiful!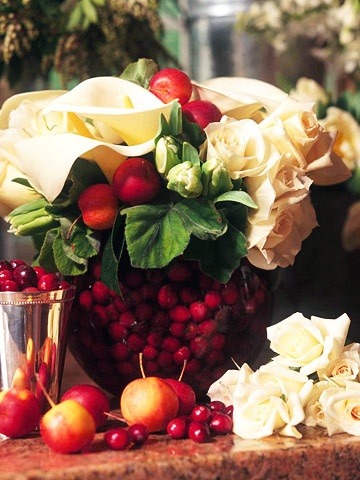 4. Modern with Edge
Try something new! If you are going for a minimalist decor, add a stunning arrangement like the one featured below. A mix of local branches and orchids bring an unexpected opposition in texture; hard vs. soft. We love that this arrangement reminds us of snow flakes on a quiet winter night.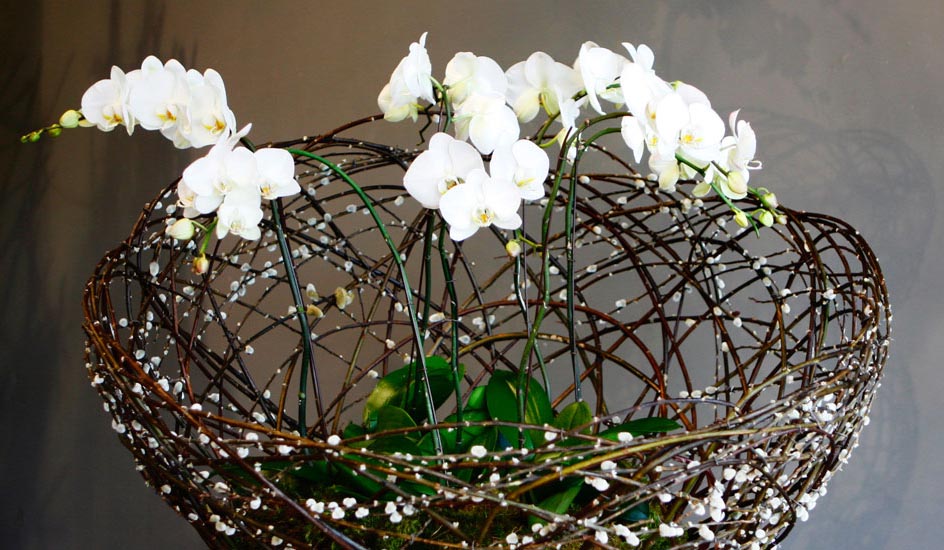 5. DIY
Although you may be able to pull together the floral arrangements above, not everyone is quite that skilled with a vase and some shears. Try this minimal and oh-so-easy at a long table with a runner and plenty of candles. There will be a high impact for minimal costs and effort using seasonal produce.
Step 1. Collect 6-10 matching stem-wear  glasses (think tall and skinnyP and center them on your table runner. Evenly spaced down the length of the table.
Step 2. Delicately trim evergreen branches from either a tree or a wreath. Extras are also commonly found on Tree Farms or even now, grocery stores. Make sure each branch is trimmed to fully  fit inside your stem-wear.
Step 3. Your done! Simple, inexpensive and fabulous!