With late summer upon us, we love squeezing the last rays of sunshine and hosting outdoor soirees well into late September. One of our favourite ways to incorporate summer-fun into events is through the little details, and what better way than a signature summer cocktail!
We are loving classic cocktails of late, and what speaks to summer more than the iconic English Pimm's Cup. This classic drink originated in the 1800′s at an oyster bar in London, and is known for it's cooling cucumber flavours and stiff manly tonic. With just a twist of sweetness!  If you are hosting a sporty Labour Day Summer soiree this coming weekend, or a adult-only Oyster night, why not incorporate the sexy Pimm's Cup as your signature event cocktail. It's an easy and fun way to personalize any event!
Here are some simple steps on how to make your own Pimm's Cup.
Enjoy! xo
White Bow's Sexy Summer Pimm's Cup
1 1/2 oz. Pimm's No. 1 Cup
1 dash lemon juice
7-Up or ginger ale, chilled
4 thin peeled cucumber slices
garnish: cucumber wheel (optional)
*** For Pimm's-with-a-Twist Use the recipe above and add:
2 large mint leaves
2 strawberries
1 1/2 ounces of Hendrick's Gin (use only 1/2 ounce of Pimm's if using gin)
---
Fill a cocktail shaker with ice. Add the Pimms and lemon juice and shake well. Strain into an ice-filled Collins glass or a mason jar. Stir in the 7-Up and garnish with the cucumber wheel. And VOILA!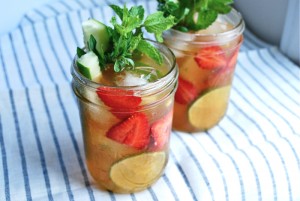 We love using unique glassware to serve our cocktails. If you have have a variety of vintage china tea-cups, why not serve your Pimm's Cup in them as a sophisticated alternative!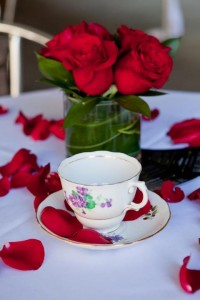 Serve fresh oysters and lemon to compliment your cocktail, as they did in London back in the 1800′s.