We know there are two things your guests will always remember after any great wedding: 1. How stunning you looked in your dress and he in his suit 2. And the wedding reception menu. Since we already covered beautiful dress options (don't miss out on this great post), we figured it was time to turn our attention to the food trends we've been loving.  And really, what's a wedding without dessert!? Here are a few trends we've been filling our White Bow couples on for the upcoming Fall 2012/winter 2013 season and we wanted to share the in-the-know cake trends with you also. Be warned – you may get hungry!
GLUTEN FREE CAKES – With more and more people avoiding gluten in their diets, many modern brides & grooms have chosen to purge the gluten. One famous bride, Chelsea Clinton, achieved a gorgeous gluten free cake at her 2011 nuptials. Not only was her gluten free cake delicious, but it rose 4 feet tall, and was completely covered in 1,000 beautiful edible white flowers. A classic white-on-white touch that we also personally loved. Try these vendors for delicious gluten free options on your wedding day: BabyCakes or Lulu's Cake Boutique – a "Best of Wedding" pick by the knot.
1. Chelsea Clinton's cake with details.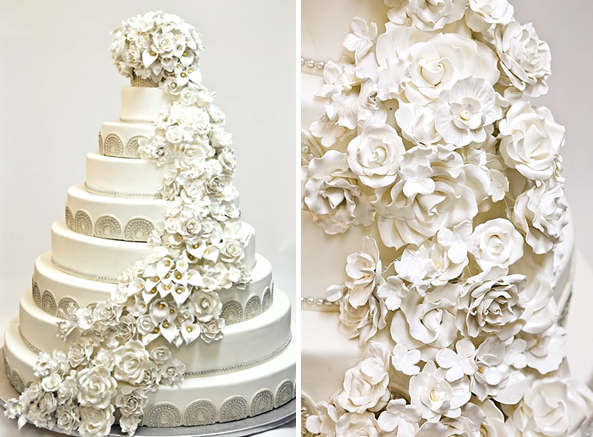 2. Cake by Lulu's Cake Boutique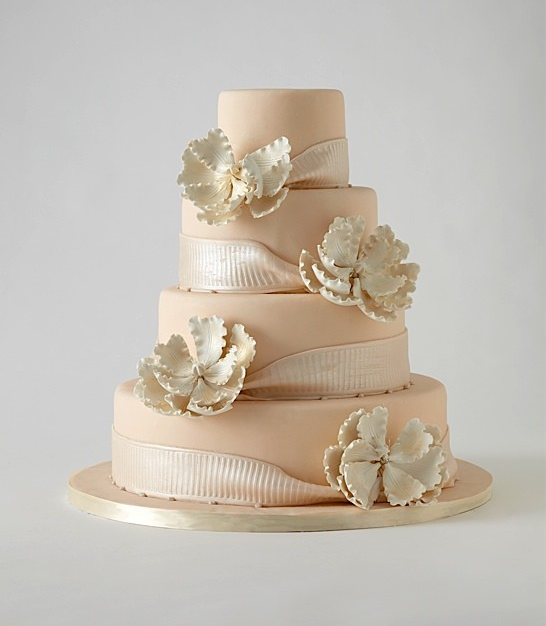 FAMILY AFFAIR – Looking for a home-spun vibe at your wedding, or just a great way to bring in a personalized feeling? Opt for recruiting family members to bake family recipes or childhood favourites for your big day. Depending on the size of your wedding party, you can have one main cake or a dessert table with a sampling of treats. We just love the idea of having your favourite childhood cake as a wedding cake option. What could be sweeter (literally) and more sentimental. Check out the beautiful traditional Irish fruit wedding cake by our recent bride Fiona, baked by her mother for her special day.
1. Cake made by the bride's mother at a recent wedding planned by White Bow Events.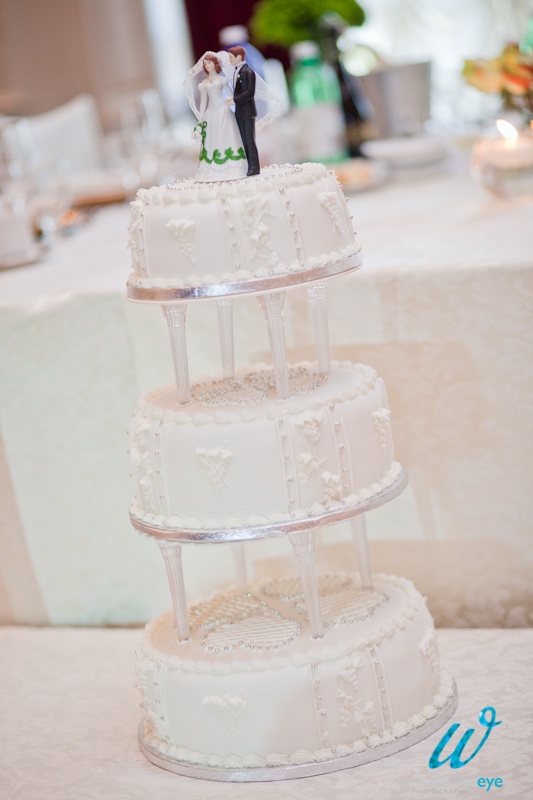 2. A great pie table with a rustic feel.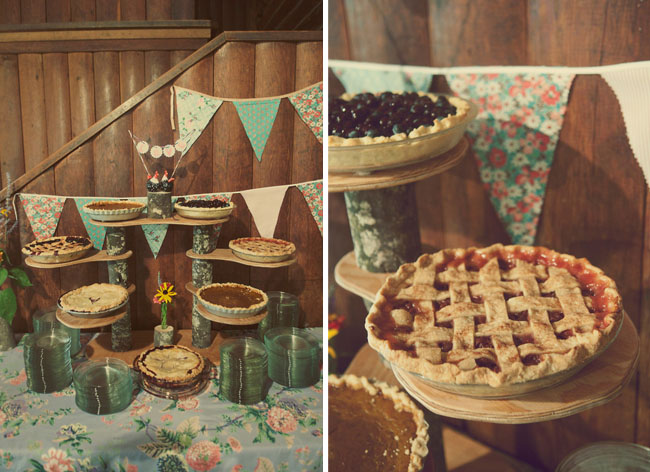 3. Love the festive mix of cake with desserts and streamers with flags!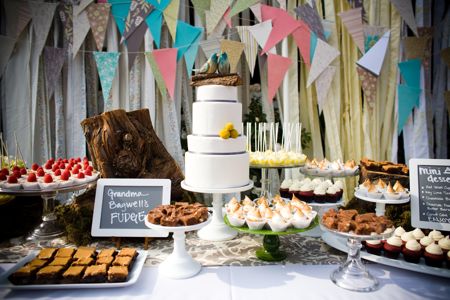 SKIP THE CAKE – Our motto is "The more dessert, the merrier!" Many couples choose not to have the focus on just one cake, but to go a more unconventional route and let their guests try a sampling of treats! Choose from cupcakes, cake pops, tarts, pies, candy, and doughnuts 'cakes' are now even a hot wedding trend! Natalie Portman took the Skip The Cake trend to heart in her recent nuptials where she followed her strictly Vegan practices and served her guests French Macarons (we love Bobbette and Belle for classic French Macaron towers). For more ideas on how to incorporate macarons, check out this blog post. We also stumbled upon a new creative idea that we just LOVE of skipping sweets and going a more savory route with a cake made of gourmet cheese! That's right – cheese! Perfect for the couple who loves to pair wine and cheese post a great meal, instead of sweets.  Check out the Cheese Boutique for a variety of gourmet custom cheese wedding cakes. We have a feeling this new trend is going to be a popular one!
1. Creative and delicious – Doughnut Cake!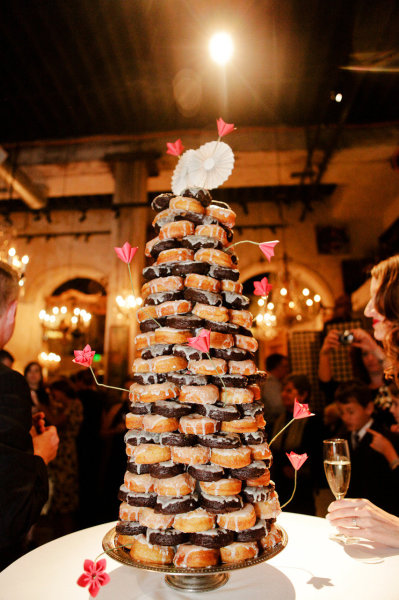 2. A candy table can satisfy your sweet tooth.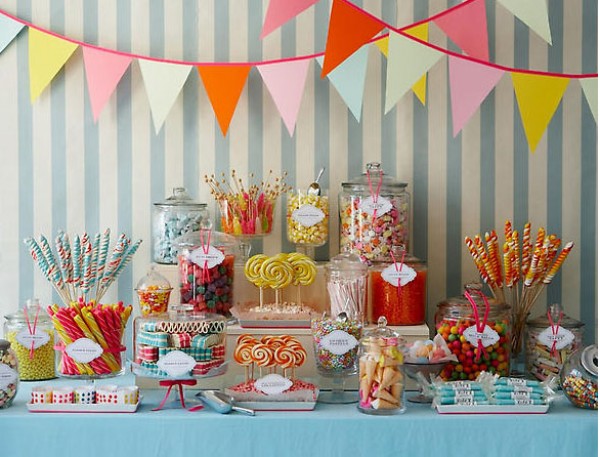 3. Macarons add a touch of chic French flair.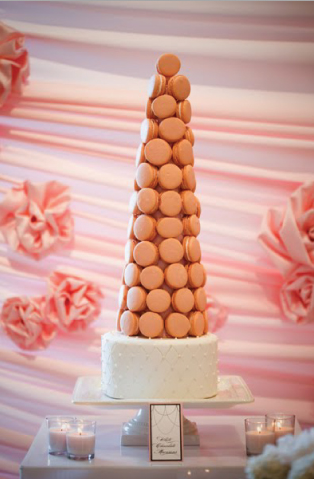 4. Go savory with a cake made of gourmet cheeses. Perfect for the wine & cheese lover!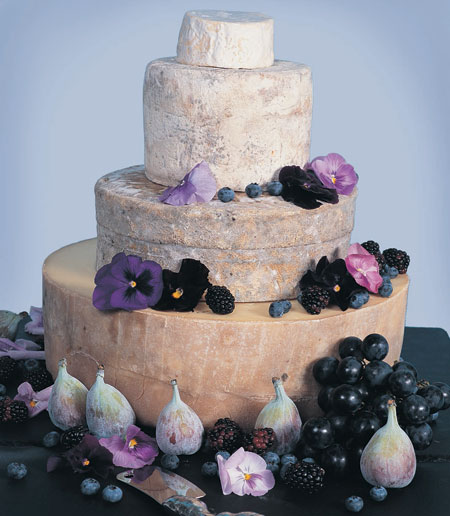 FEEL THE FALL – Let the colors of the most gorgeous season inspire you in your design and flavor. We the love the idea of apple or pumpkin spice flavors and rich color pallets with fall accents such as leaves, branches, and orange, yellow, and red flowers. For gorgeous and theatrical cakes, try Cake Opera Co who are specialize in dramatic statements (of any theme ) with their sweet cakes.
1. Apple spice cake (also a naked cake – see trend below) with luxe golden apple accents.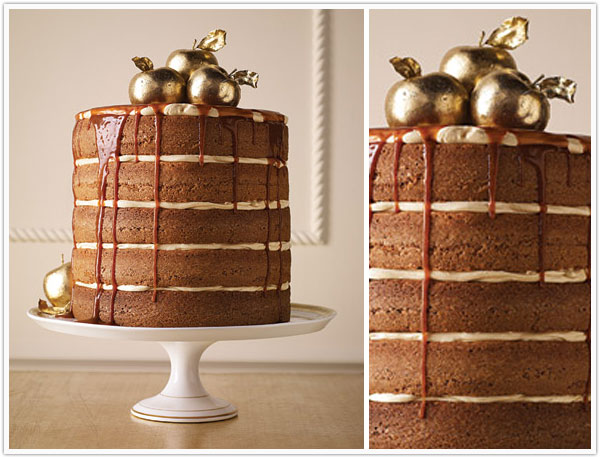 2. Classic with just a touch of Fall coloring with burnt-orange roses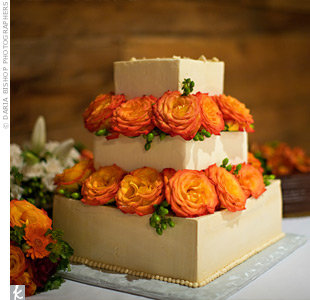 3. Full Fall ahead! This cake really embraces the fall theme with leaves and playful edible apples!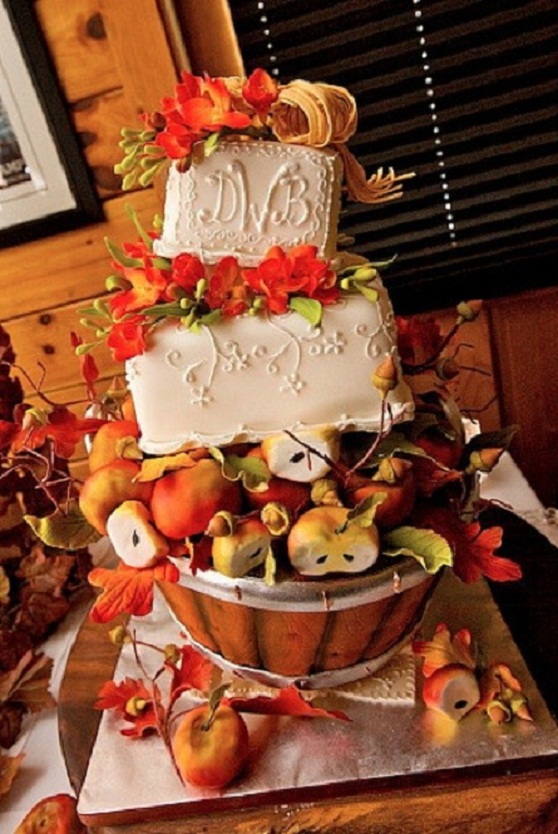 NAKED CAKES – Love cakes but not necessarily a "frosting person"? You're in luck! Naked, or un-frosted cakes, are all the rage. Let your filling do the talking and leave your cake au naturale. The cakes below show this new 'naked' trend in all their glory. This is one of our favourite trends to date – and perfect for the bride and groom who are having rustic, romantic or vintage-inspired I Do's.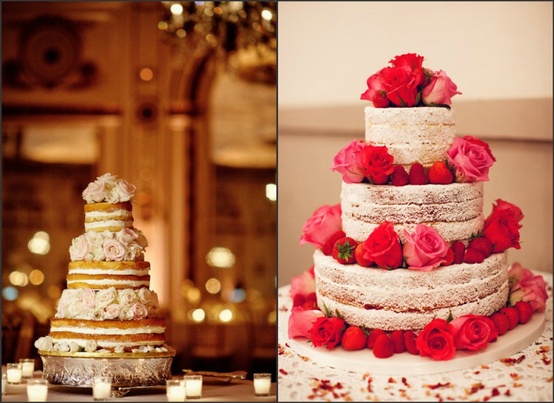 And just remember….you CAN have your cake and eat it to. After all, it is your wedding! xo