We love the romantic nostalgia of the New Year – and how it's the chance for a fresh start. Whose doesn't love new beginnings?! Why not start 2013 glittery with a party gilded in gold? A classic color for holidays, weddings, parties and the New Year. Gold is sophisticated, sexy, luxurious and simple.
Try out these helpful White Bow tips and tricks for the perfect party to ring in 2013! Just add some bubbly and the ones you love to get next year off to a sweet sweet start. Happy New Year! May it be your best yet! xo
Cocktail
Toast to the New Year with some classic bubbly at midnight. To turn it up a notch, try this tasty goldent treat with the sweetest name: Prosecco Gold Rush.
Ingredients:
12 ounces Prosecco, chilled
2 ounces vodka, chilled. To make it extra cold stock it in your freezer the night before.
1 1/2 ounces cinnamon schnapps (Recommended: Goldschlager)
Directions:
Pour Prosecco into a clear glass without ice. Add vodka and cinnamon schnapps, and stir to mix gold flakes evenly through the drink. Serve while bubbly!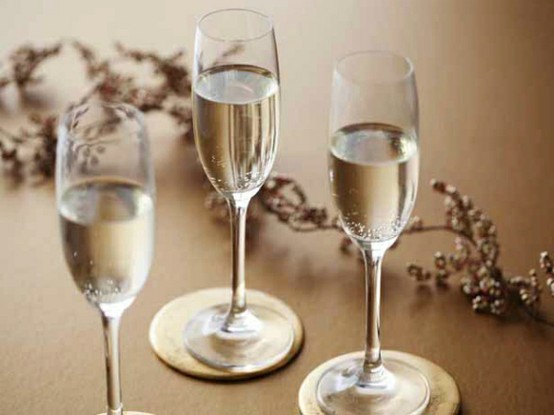 Food
The New Year will be just as sweet as the treats you serve. Stock up on gorgeous nibbles like champagne macarons, cupcakes and s'mores! Paint your treats gold using edible gold flakes & stars! We love dusting and dipping marshmallows with golden flakes (as seen below in the s'mores). It's easy, simple and safe. Once all your golden treats are ready to serve, mimic the beautiful dessert table below for inspiration, using seasonal natural elements like birch slabs and pinecones to decorate. It's one, two, three, beautiful!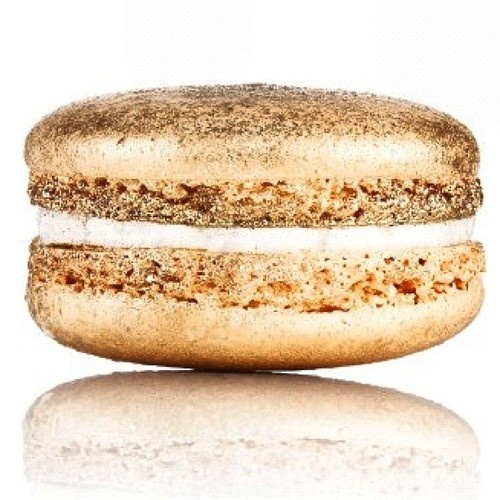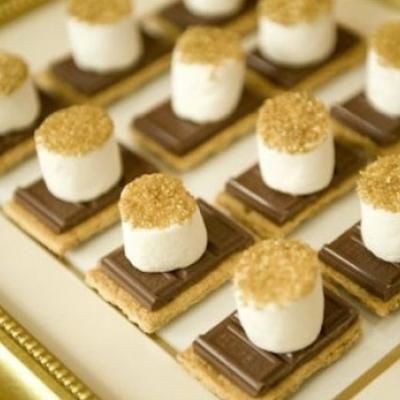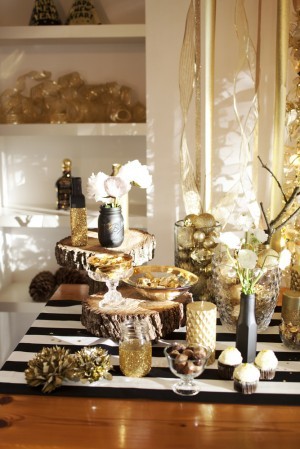 For a quick and easy DIY on the jars you see on the table above, try this! Easy and fun in 10 minutes!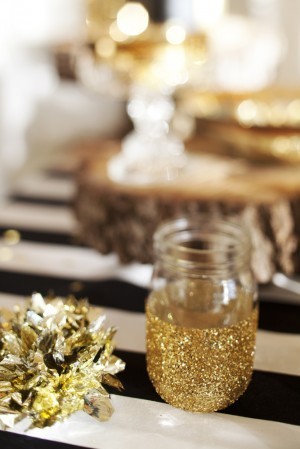 Table Decor
No NYE dinner party is complete without a little gold to adorn the table and ring it in right. Try accenting the metallics with gorgeous cream linens and simple white florals. We love buying chocolate covered gold-coins (sold in the grocery and dollar store) to decorate the table. It is believed they bring in good luck for the coming year also!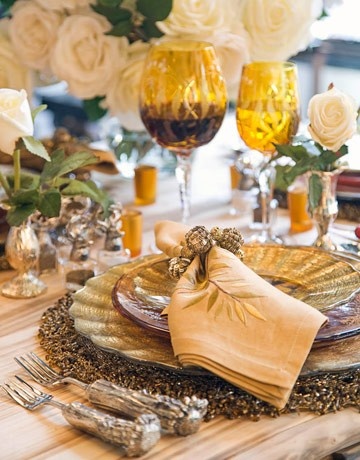 Party Decor
You may not be able to recreate this inspiration to the letter – but we loved the golden party below so much that we just had to share! Incorporate your own gold streamers and balloons, white lights and gold fringe a la Confetti System to create your own golden paradise!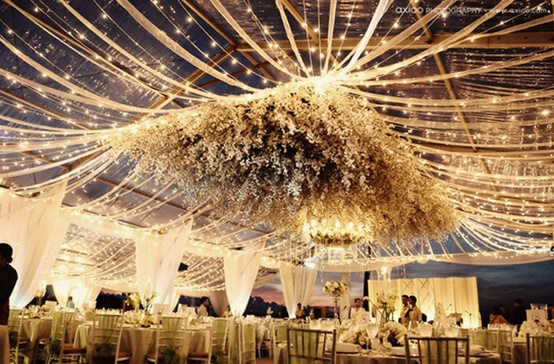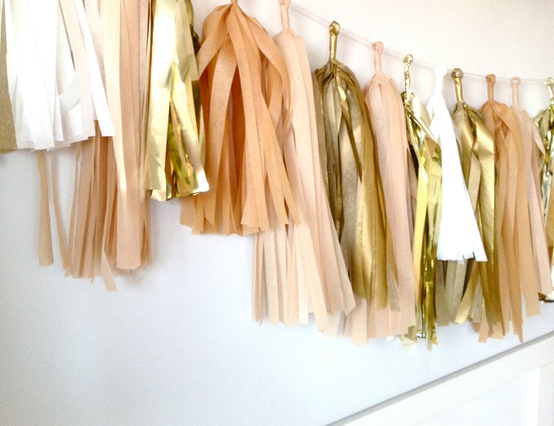 Don't let your guests leave empty handed! After ringing in the New Year together, make sure your friends have something to remember the occasion. Put small trinkets and favours (how about those gold chocolate coins and a polaroid snap) in adorable wrapping and make sure the memory lasts forever!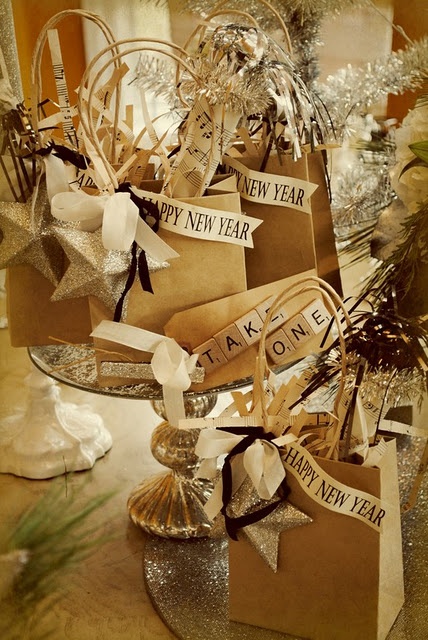 Home Decor
Gold can work in any home, so much so, we consider it a neutral! From small items like lamps, vases or mirrors to much larger pieces: coffee tables, wall paper or even gold tiles. The sky is the limit. You can even pair with adventurous bold colors like red, blue or emerald. Our favourite colour combo however is paired with neutrals like white, cream, and beige. Take some inspiration from the gilded wall we just love below!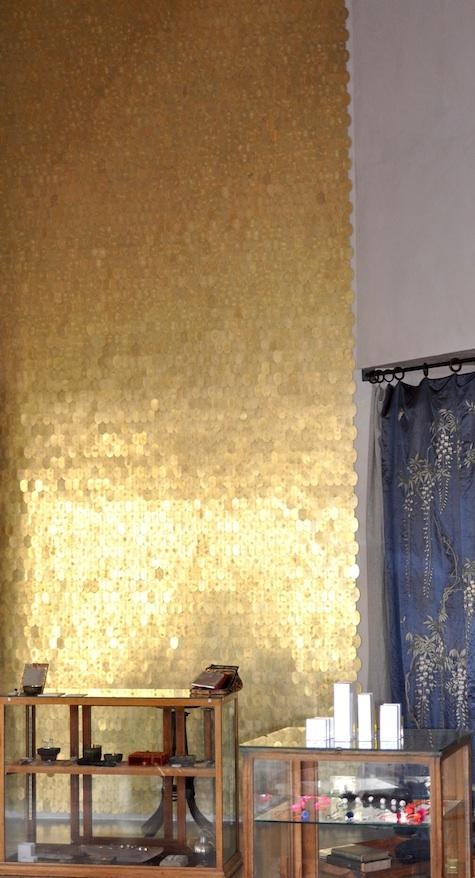 Fashion
With the legendary Oscar red carpet quickly approaching, take a cue from our favorite celebrities and go gold! Why not make a statement while ringing in the New Year? Throw out all the rules you've made and do red lips, a gold dress and smokey eyes! We love the low back on this Abed Mahfouz SS13 gown.