Despite popular belief, we consider "Wedding Season" as being all year long. No matter the season, part of the fun is preparing what to wear. Whether you are invited, or the plus 1, use this guide to help you quickly find the appropriate style to wear to any specific affair. And remember, the best accessory is always your smile!
Our personal favorite, time to go "James Bond"! Traditionally a Black Tie wedding calls for floor-length or t-length dresses. Make sure to include tasteful accessories and a light jacket or shawl if you are going strapless.
We recommend sticking to darker colors and minimal prints. Go for something that really flatters or body and then add a bold necklace for flair. Don't do anything too tight! Consider the proper undergarments and how you can stay comfortable yet classy the entire night!
Artsy Hip Gallery Wedding
Everyone has friends that are a part of the arts community. Most likely, they will get married at a gallery or uber-hip recycled truck stop turned event space. When it comes to attending these non-traditional weddings we suggest you keep things fun and casual. We opted for a printed maxi dress featuring fun and bright colors. Keep your shoe neutral and let the dress do all the talking. Add an interesting earring from a local artist as a great conversation starter! Top off your look with an arm-full of wooden and natural element bangles!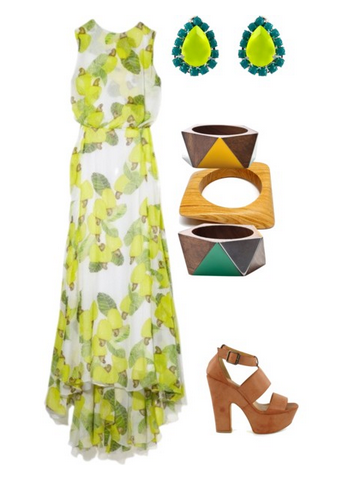 Farm/Outdoor/Rustic Wedding
Getting married in the great outdoors can be a perfectly romantic and lovely way to celebrate your nuptials. As a guest, you need to be prepared for a sunny day and rough terrain! We suggest finding a dress in a lightweight cotton. Stay away from silk as no one wants to see you sweat and make sure you have a wedge shoe so you can conquer any hill or grassy noll. We also tossed in a larger clutch to carry a pair of flats and all the essentials (just in case!). Top it off with a fun paper umbrella to protect your face from the sun and give you the perfect view of the bride!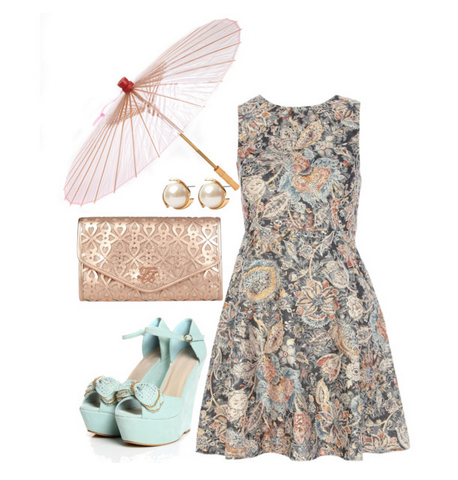 Sunday Brunch or Day wedding
Sunday weddings are become more and more popular. Brides can save a lot of money by moving their celebration to a Sunday. Many Sunday weddings tend to be during the day or even brunch! We suggest doning a typical "ladies who lunch" attire. Something flirty and floral, with just a touch of sparkle. Top off your look with a classic Chanel bag that has the perfect extra touch!