The quick transition from summer to fall signals the start of one of our favorite seasons to embrace an outdoor wedding. While summer still remains the hottest (pun intended) month to host an outdoor wedding, fall is quietly gaining popularity for bride & grooms-to-be who favour the rustic outdoors. Although farms and barn-like settings can be considered traditional "country style" we love the idea of infusing farm weddings with bits of elegance and simple glamour. The key to planning a rustic farm wedding is to keeping true to the uncomplicated natural textures and playing up it's beautiful simplicity.
Lighting
Play it up with lights and bring the indoors out. The use of  soft lighting not only helps create an inviting atmosphere but can also help add a dose of glamour to your farm location. The mix of vintage chandeliers and pendant lights (as below) mixes perfectly with the rustic nature of a worn-in wood barn.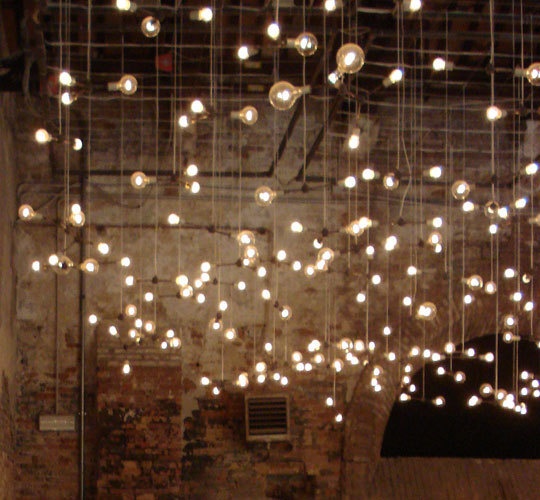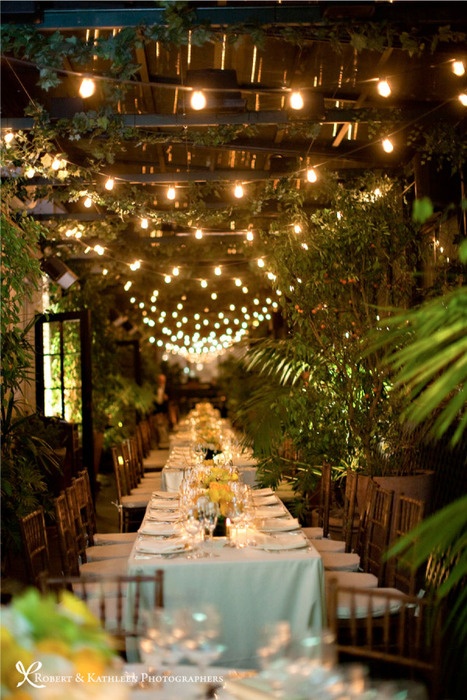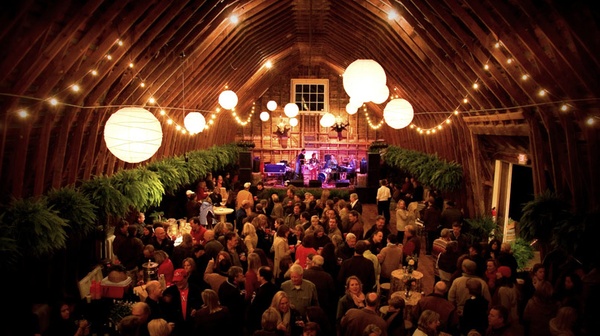 Florals
Keep it simple. Let your guests take in the natural beauty of the farm's surroundings. For pops of color, add florals that do match your setting such as wild flowers & lavender. Pick florals that are in season to keep costs low (sunflowers grow well into late fall) and fit into the natural setting of your location. Another idea is picking non-traditional arrangements such as cotton balls on the stem (a hot trend this year!), ferns and rosemary. Head to the local farmer's market and see what's in season in your area. We love the idea of creating a table runner made just of flowers for a natural place setting (see below). Also, if you love traditional flowers (such as roses) mix them up with vintage touches such as small drinking glasses, as below, from farmer's markets.
Location
Keep close to your roots! If a farm symbolizes a family upbringing or nostalgia,  go it! Bringing sentimentality into your special day is the perfect way to let guests get a better glimpse into your past, present and future. But that dosen't mean those raised in the city cant opt for a farm wedding if they just love the romantic feeling! Farms-like settings bring out a feeling of comfortability and ease, perfect for the couple who wants to keep it low-key.  Opt for a classic red barn, or all worn in wood. We really love this rustic white barn!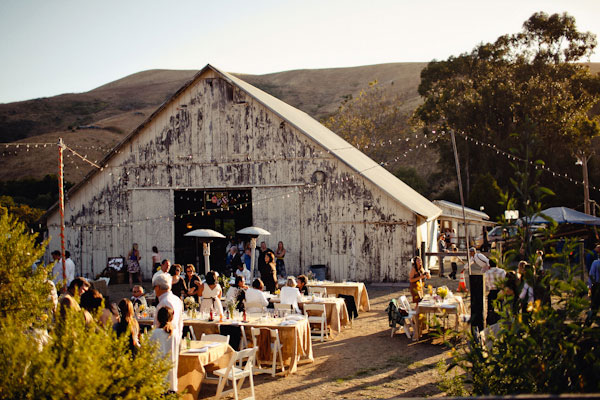 Details
It's all in the details. Add in rustic details to the barn decor that help feed into the great location. Some ideas are hay bales, tin buckets, wheelbarrows, burlap, paper lanterns, animals (such as birds & horses), & traditional mason jars.
Invitations
If you are blessed to have such a great location to start from, don't be shy when incorporating it into your invite. Keep your invitations looks natural by using materials that are earth-friendly and look like that could have sprung from the soil, such as dark brown letting on beige paper or using burlap overlays.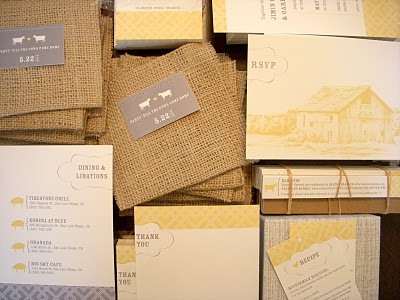 Food
Traditional soul food BBQ ribs, roast chicken, pot roast, mashed potatoes, macaroni and cheese, corn on the cob & garden vegetables. Include seafood like battered fish, oysters or a low-country seafood boil! Individual signature mini-pot pies is also an adorable country-style touch. In addition to your bar, serve classic non-alcoholic drinks such as lemonade and lemon ice tea.
For cake, include traditional farm flavours like carrot cake, spice cake. Decorate with edible flowers or fruit. We love the Naked Cake trend (click here for additional current cake trends) as the unfussed style is perfect for a farm-like setting.
Activities
Keep your guests entertained while you take pictures or switch outfits. A farm is a perfect place for a horseshoe toss, potato sack races or any classic game that get guests participating and having fun! When the sun goes down, light a huge bonfire and roast marshmellos! We also love the idea of keeping the kids at bay while the adults dance the night away, with a movie night under the stars. How picture-perfect is the setting below?!
Enjoy! xo