On the East Coast, and where White Bow Events is located, the winter season tends to mean snow, slush and a cold winter chill. Many couples fear of getting married in the winter and competing with the natural elements. But we believe a winter wedding is extra-special and, if playing up the season, can be elegant, rustic and ultra-cozy!
How? Think a winter wonderland with birch trees dipped in glass icicles, roaring fireplaces, fur throws and hot coca shots. Bring the outdoors in with natural elements. Not only is a winter wedding ultra-cozy and romantic but it's also considered low-season for I Do's (before & post the holiday-rush of late Nov & early Jan) and you can save bundles on venues fees. Take these inspirations for your own winter wedding and happy winter dreaming!
DECOR:
Decor inspired from the great outdoors: Wood, snowflakes, icicles and natural elements. The use of birch is a hot trend for 2012/2013 weddings and can be used in flower arrangements, table numbers & seating cards. Pick simply one natural element that inspires you and use it throughout your wedding as a theme. To save on costs, use blooms & greens that are seasonal such as holly, berries, branches, camelias and amaryllis. There are many decor possibilities & options to play up this special season. We love the use of the birch trees for the reception as below!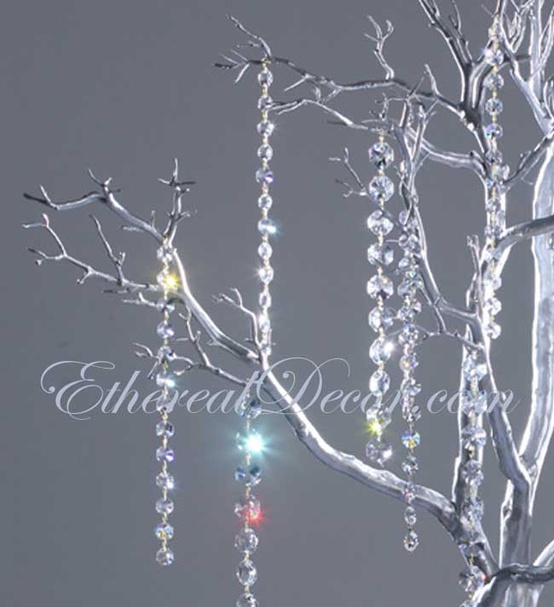 LIGHTING:
Warm Lighting: Play up the romantic feel of winter with soft lighting to create a warm and cozy throughout your wedding venue. Use an abundance of white candles and lights in warm yellows, cool blues and & reds to create the mood that's especially comforting when the chill is outside. Lighting is the easiest and most cost-effective way to change up a room instantly!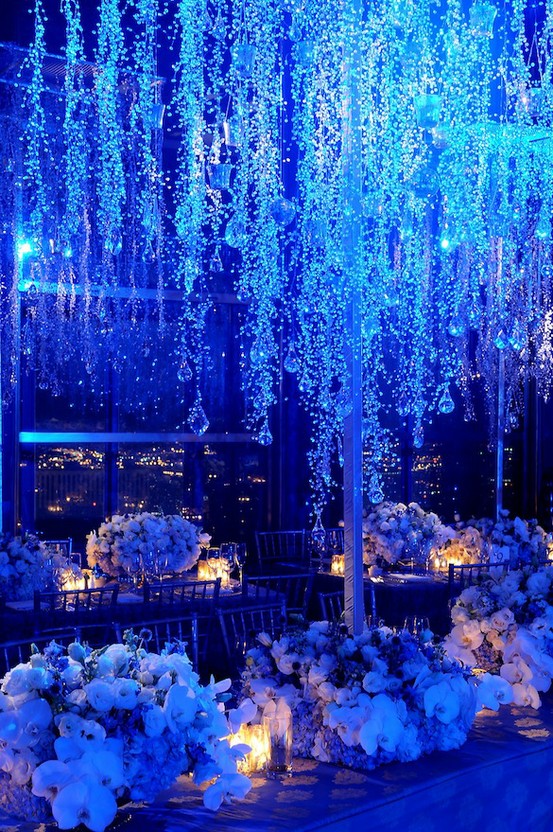 COLOUR THEME:
Winter Colours: Gorgeous winter white-on-white or rich luxurious jeweled-tones. If choosing to use tone-on-tone white, layer this classic elegant colour using different shades of white and textures (such as fur, feathers, velvet and satin) to help create a warm and inviting atmosphere. The myth is that white creates a cool look, but layering the endless shades of white (yes, white has many different varieties!) and cream can achieve the ultimate warm and inviting ambience. We love the use of all shades of whites in the reception below.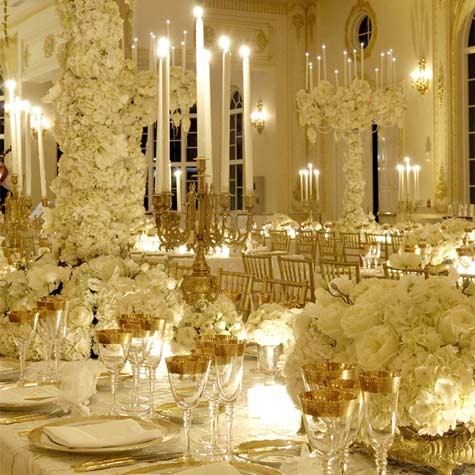 Another colour alternative is using rich luxurious jeweled tones, instead of whites, such as emerald, ruby, and sapphire shades throughout your reception and pair with metallic accents of  icy blue, silver and gold. The key is to pick the colour palette that best compliments your venue instead of fights against it. Remember, never try to cover up but rather enhance the space with colour.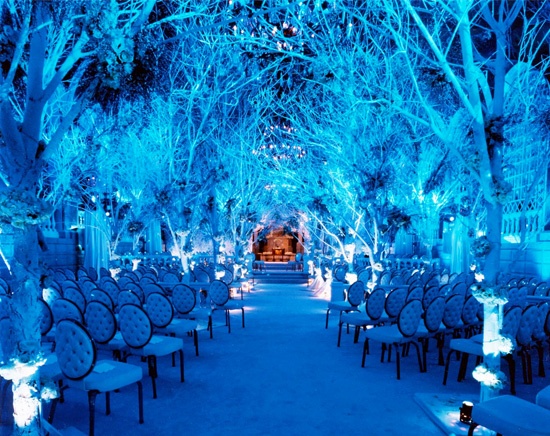 EXTRAS: Elements of comfort: Nothing compliments winter and oozes charm like a fireplaces, smores, hot chocolate, and comfort foods such as hearty gamey meats. Play up the winter wonderland vibe to your event by doing a snowflake confetti toss at the ceremony and a doughnut & hot chocolate bar at the reception. As a wedding favour, you can give guests a beautiful ornament to hang during the holidays. You guests will never forget these extra-special winter touches!
DRESS:
Winter Wedding fashion calls for rich and luxurious elements of texture such as feathers, fur and velvet to help play up the winter wonderland theme – but just as importantly to stay warm. Also hot for 2013 is rich red and cool blue, paired with fur shrugs and long evening gloves for any pictures outdoors.